On this Page your will find the Ride on Landscape range, These are only a few of the mowers that TORO can provide. If you wish to see the full listing of contractor range simply click on the link below and see what TORO has to offer to you.
Professional 6000 122 cm Z Master®
16.4 kW (22 hp) Kawasaki® engine
122 cm TURBO FORCE® 7-gauge deck
Custom seat with 3-D isolation
Unitised pump and motor drive system
The new Z Master® G3 was designed for the pros and by the pros. This next generation of Toro Z Master mowers features unsurpassed hillside traction and handling and significant advancements in operator comfort. It's technology that refines the Z Master to make a great commercial mower even better.
In the 6000 series there is also the MyRide option. for that ultimate comfort while cutting any ruff ground.
MyRide Maximum Comfort
The fully suspended operator platform allows for 9.1 cm of travel and reduces impacts, bumps and vibrations that reach the operator, resulting in a superior ride.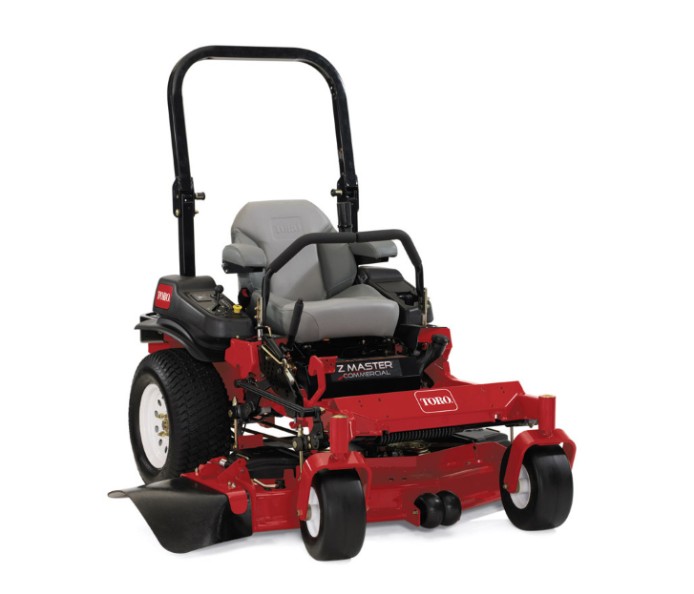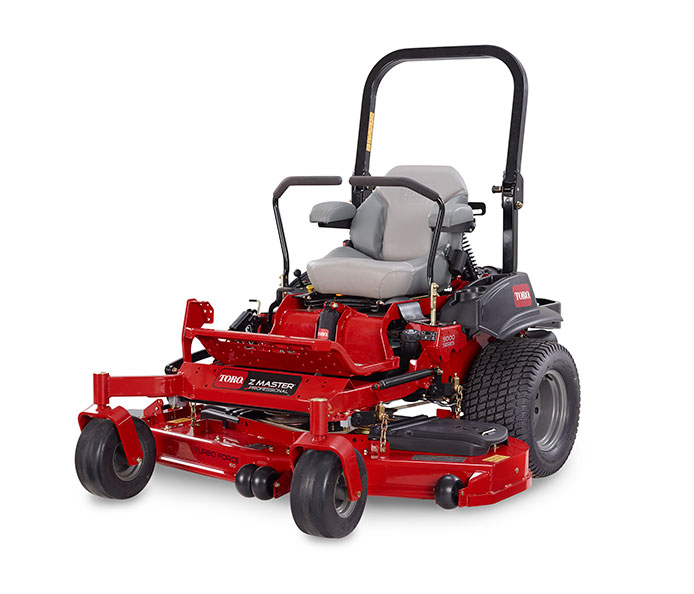 Recycler® Mulching Technology

Recycler mulching technology is widely recognised as the industry's best mulching system. The patented kicker design cuts and re-cuts grass into tiny particles that are then injected into the turf for a "just bagged look". Recycler mulching has been proven to reduce mowing time by up to 38% vs. bagging.

Optional Blades

In addition to the high sail blade, which comes standard on Z Master® Z590 Series mowers, additional 6.35 mm blades are available to match regional and seasonal mowing conditions. Options include Recycler® and Atomic® mulching blades, medium sail Bahai blades, and low sail sand blades.

E-Z Vac Twin & Triple Bagger Systems

Toro® Z Master® E-Z VacTM Twin and Triple Baggers deliver the convenience and versatility essential to landscape professionals' productivity. The no-tools, quick-release design allows you to remove the collection system with ease, making it a snap to alternate between bagging and side-discharge.

Toro Z Stand

Exclusive Toro Z Stand provides an on-board tool to simply elevate the front end of the machine and provide access to the underside of the deck.
GrandStand™ Stand-on Mower
High productivity in a compact size
Exceptional hillside traction and handling
Operator platform suspension reduces fatigue
Foldable platform allows for walk-behind operation
The Toro® GrandStand™ stand-on mower delivers superior productivity, visibility, and operator comfort in a sleek compact machine. It features a unique suspension system for a smooth ride over the roughest terrains, plus a retractable platform that allows for operation from both stand-on and walk-behind positions. The GrandStand mower incorporates the Toro TURBO FORCE® deck and twin-lever controls, making it easy to use while providing the landscape contractor a better "quality of cut".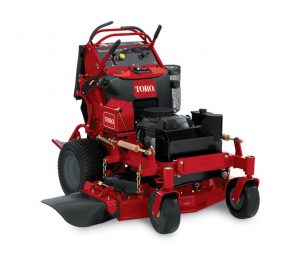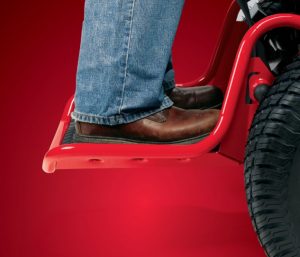 Innovative Speed Control

Patent-pending variable speed control changes drive tyre response without limiting the travel of the controls, or slowing down the engine and blades. From precise manoeuvres in delicate areas to training new users, the GrandStand's easy-to-use controls make operation a breeze.

Traction and Handling

The wide stance and optimal weight balance of the GrandStand enhance hillside stability and control. Because there are no restrictions to limit operator motion, operators can shift weight as needed to further enhance the performance of the machine.

2-in-1 Versatility

In situations where the operator may want or need to walk, Toro's foldable operator platform instantly converts the GrandStand to a walk-behind. When it's time to ride, just lower it back down – saving time, money and trailer space by eliminating the need to switch from one mower to another.

Comprehensive Warranty

5-year or 1,200-hour limited warranty with limited lifetime frame warranty. (2-year commercial engine warranty.) See Toro dealer for complete warranty details.
ProLine H800 Direct Collect Mower
Yanmar; 3-cylinder, liquid-cooled, diesel. Rated Power 17.5 kW (23.8 hp) rated @ 3,000 rpm, Gross Power 19.2 kW (26.1 hp) @ 3,000 rpm
Toro 126 cm deck with welded bull nose bumper, heavy duty castor forks and long-lasting skid protection
Direct grass collection with Smart AirFlow system to maximise collection performance
High-volume 810 litre hopper with 195 cm maximum dump height for easy clean up of clippings
The ProLine H800 direct collect rotary mower with high-lift collection is engineered for maximum lifetime and minimum downtime. The Toro out-front deck features a welded bull nose bumper, heavy duty castor forks and long-lasting skid protection. With a powerful 19.2 kW (26.1 hp) engine, a large 41 litre fuel tank and 810 litre capacity hopper, this mower can go longer without stopping – you don't even have to stop to adjust the height of cut! And when the hopper gets full, a sensor alerts you, and the deck automatically shuts off to prevent overfilling or uncollected grass. Then, the high lift system makes it effortless to empty clippings directly into a truck bed. Smart Cool with an automatic reversing fan and automatic deck cleaning wipers. Excellent sight lines make the ProLine H800 perfect for trimming around landscaping in urban areas and parks. And the high performance cutting system delivers a clean quality of cut – crucial for sports fields and business complexes.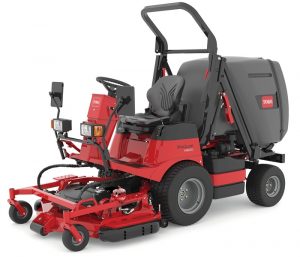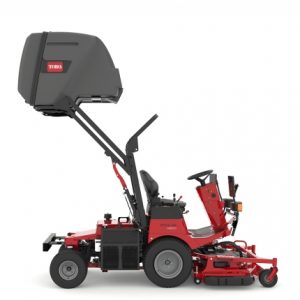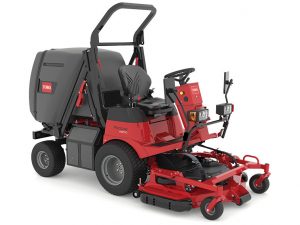 Drive System
Engine-mounted hydrostatic transmission powering four hydraulic wheel motors providing dual-diagonal full-time all-wheel drive.
Ground Speed
Transport: 0 to 9.3 mph, continuously variable. Reverse: 0 to 6.2 mph
Hopper Capacity
810 litres
Cutting Width
126 cm