On the following page you will see a few of Makita's Chainsaws, If you follow the link below. It will take you too there full range.
22cc PETROL CHAINSAW
DCS230T
The DCS230T is primarily targeted at professionals who frequently prune fruit trees or street trees. The new design of these chainsaws allow it to be extremely light, weighing in at just 2.5 kilograms. It has a side tensioner for easy chain adjustment and a automatic chain oiler for reliable chain lubrication.
THIS CHAINSAW IS FOR PROFESSIONALS ONLY WE WILL NEED PROOF OF A VALID TOP HANDLE CHAIN SAW LICENSE BEFORE SALE CAN BE MADE.
The DCS230T comes with the following kit
Guide bar
Saw chain
Guide bar cover
Universal wrench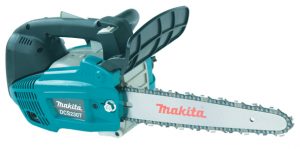 2 Stroke 32cc Chainsaw
EA3201S35B
The EA3201S35B is an entry class Chain Saw with catalytic converter so it complies with current exhaust emissions. With spring-assisted recoil starter, The force required to start the machine is drastically reduced. Chain adjustment is made easy with the tool less tension adjuster. This machine is also fitted with a Intelligent ignition coil, it features overrun protection and controls stable idling.
The EA3201S35B comes with he following kit
Guide bar
Saw chain
Guide bar cover
Socket wrench
Screwdriver
Electric Chainsaw 35cm
UC3541A
These models are the successors of UC3520A and UC4020A. The oil pump and toolless tension adjustment have been improved and the exterior design has been changed as new born UC3541A and UC4041A series models
User benefits:
New adjustment lever for easier tool-less saw chain / tension adjustment.
Adjustable automatic chain oil pump
Ergonomic soft grip
Large separate-type metal spike bumper. Spike grips work-piece firmly to provide more control.
Oil fill level window.
Flat motor housing end
Mechanical chain brake
Double Insulation
Kickback brake
Automatic chain oiling.
Standard accessories:
Guide bar
Saw chain
Guide bar cover
10m lead
Hook complete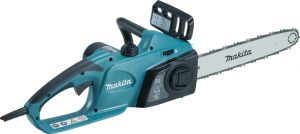 18Vx2 Chainsaw 350mm BL LXT
DUC353 is a cordless chain saw powered by two 18V Li-ion batteries in series.
User benefits:
Brushless motor
Variable speed control by trigger
Constant speed control
New adjustment lever for easier tool-less tension adjustment of saw chain
Electric chain brake
Kickback brake
Oil Capacity Display
Ergonomic soft grip
Large separate-type metal spike bumper. Spike grips work-piece firmly to provide more control.
Adjustable automatic chain lubrication
Lock-off lever
Powered by two 18V Li-ion batteries in series to supply energy to the powerful 36V DC motor drive system.
Main power switch with auto power-off function
Standard accessories:
Saw chain
Guide bar
Guide bar cover
Oil supply