MACHINERY HIRE
Welcome to our page for machines we have available for hire, All machines are pre checked as required before they are sent out on hire. Please feel free to call if you see something your are interested in.
Mini digger available for hire
Dykeing and trench bucket available, Collection and delivery service. Please call for a quotation or if you have any questions 01205290900
Hayter Scarifier available for hire
Hayter Scarifier helps maintain as health lush lawn by removing thatch, It is a easy solution to gain the perfect lawn. Cutting depth is altered with simple hand controls, There is 5 pre-set depths to choice from. A transport mode is also fitted to allow movement of the machine, Without causing damage to the grass or machine.
Fifteen fixed-blade cutting system
For use on small or larger lawns
Powerful Briggs & Stratton 550 Series™
Day rate of £45 + VAT
Arrange hire by calling today 01205290900
Toro Procore SR54 with TYM Tractor available for hire
If you hire the Toro Procore SR54 from us it comes attached to a 35hp TYM tractor, The tractor has turf tyres fitted and manual transmission.
Toro procore is a deep aeration spikier, Ideal for improving drainage and gas exchange. Which promotes healthier growing conditions, by allowing the roots of plants to grow deeper It is designed for use on greens, tees an other turf areas with a light to medium soil conditions. With a working width of 137cm and depths capabilities up to 25cm.
Popular users of this machine are bowling greens and tennis courts
Tines available from us are 8 mm and 12mm
If required a driver is available with the hire of the machine.
Arrange hire by calling today 01205290900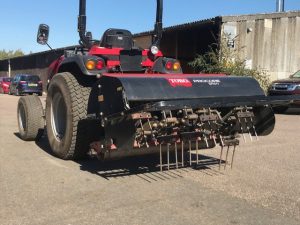 Toro ProLine 22293 available for hire
This heavy duty 4 wheel lawn mower with 179cc Kawasaki engine. Its great for them big jobs where a traditional lawn mower would struggle.
The Toro 22293 has a corrosion resistant 6.35mm thick die cast aluminium deck.
Mulch or rear bag. The Toro Super Recycler® cutting system injects minced grass clippings deep into the turf to provide a "just bagged" appearance without the hassle of clipping collection and disposal.
Specifications
Type : Heavy duty Recycler
Engine : Kawasaki FJ180
Engine Capacity : 179cc
Fuel Tank : 3.8l
Cutting Width : 53cm / 21 inch
Drive : Self propelled, 3 speed rear wheel
Deck : 6mm thick Aluminium
Cutting Heights : 25 – 114mm
Grass Collector : 77 litre
Wheels : Radial style steel with ball bearings, semi-pneumatic
Weight : 62kg
Dimensions (HxLxW) : 42 x 91 x 56cm
Arrange hire by calling today 01205290900